House Cleaning Services Dubai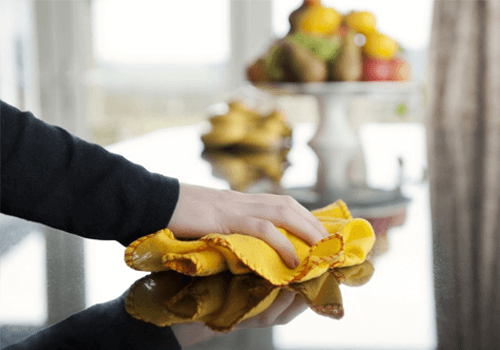 We know that you have a hectic life and you would not have any time to get the cleaning done in your home. and this is why you would need the help of part-time housemaids in Dubai who can get the cleaning done efficiently. Our housemaids can get the cleaning done perfectly because they are trained, skilled, experienced, knowledgeable and above all, determined to provide exceptional house cleaning services. We provide affordable services and provide quality cleaning for your home.

They are careful
These maids have been trained to perform their duties with the ultimate care. You can provide specific instructions if you want certain items or rooms in the house to be off-limits. Once you have given this information, they will carry out the house cleaning in Dubai according to your requirements. Our housemaids' cleaning is quite impeccable and their service truly reliable.

They have good eyes
Our housemaids can perform any cleaning job perfectly and comprehensively. They can spot dust and dirt that you would otherwise have missed and can clean all nooks and corners, making sure that once the work is done, your house is spotless.

They are punctual
Our maids are known for their punctual arrival and timely cleaning. Our maids booking-system ensures that the maids are promptly notified about the cleaning service. Our maid transportation system ensures that the housemaids reach your doorstep within the time allotted for cleaning. When you require the cleaning to be completed within a certain time, our housemaids will make it happen.

They are versatile
Our cleaning maids are quite capable of cleaning different kinds of houses - villas, apartments or suburban homes. These experienced part-time housemaids have extensive experience in house cleaning and provide customized cleaning services according to your requirements. We guarantee a cleaning service that will create the perfect home environment.

They are good at communication
Once these maids in Dubai arrive at your home or office, they will perform the cleaning service without having to be told what to do because of their vast experience and expertise. Our maids are well-versed in English and can communicate to you fluently to ensure that the cleaning service is performed to your satisfaction.